m-Indicator: Mumbai Local
17.0.277
m-Helper
I would love to have access to a dedicated transportation helper whenever I visit a new city. Except probably in Barcelona. The tram there is amazing. If I were to land in… Mumbai for example, then I would probably require something to help me get clear on what transportation mediums are available and where to get them. Luckily for tourists (and would be employees), Mumbai has such an app.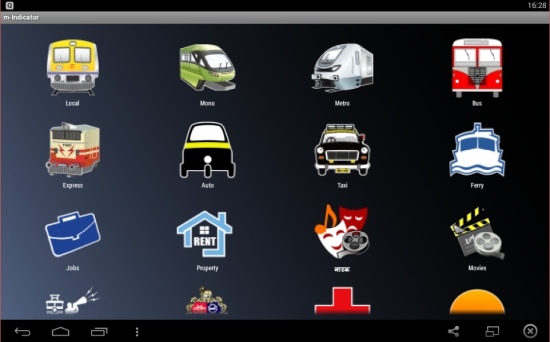 m-Provider
m-Indicator is a digital information post for public transportation …mainly. The main screen shows a series of icons that lead to time table screens wherein you can check specific trains or routes. They concern the local railway, metro, mono-rail and express train along with the bus system. Rickshaw, taxi and ferry rates are also available. There are other icons also.
In the Local screen you can check the rail map, station codes and more importantly departure times relative to any platform. This is very helpful if you're looking to link two or more trains in your voyage plan. You can also create shortcuts for up to six train routes, for future reference.
The Mono and Metro screens are a bit simpler but use the same interface and also give access to the transportation map.
The Taxi and Auto screens display fee approximations for different distances and contain the phone numbers for the local cab companies. The Ferry screen shows all the available ferries with opening and closing hours along with fares and time approximations.
The Bus screen shows which bus numbers are linked to which stations and vice-versa. It allows you to consult an online source for time tables and can also suggest routes for an A to B travel scenario. Remember that you must switch between the providers to see all of the information.
Finally, Express deals with the express trains. It lists outgoing and incoming trains along with checking for ticket confirmation, news and updating the database to keep up to speed.
The other bits all give information about local movies, job postings, subway broadcasts, emergency numbers and picnic spots (which include nice locations that are up to 600 km away from Mumbai).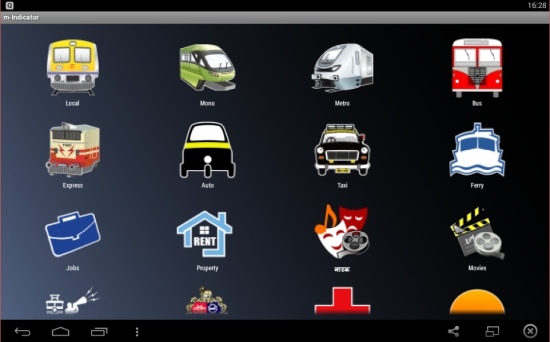 Features
Info on public transportation in Mumbai - Includes bookmarks for railway destinations.
Information on Taxi and Auto-rickshaw rates
Emergency number list
Rail Alerts – broadcasts messages concerning the railway systep>
Pros
Gives pertinent information about all of the aspects of public transportation in Mumbai
Cons
It would have been nice if maps were better integrated into the interface. For example showing selected routes instead of offering a simple map image that can only be checked separately.
Conclusion
m-Indicator is a very handy app to have if you're visiting Mumbai or simply commuting. The lack of visual representations (except a static railroad map) does make it harder to read, but nonetheless, it is a good resource.
RELATED PROGRAMS
Our Recommendations
---
---
---
---